APrIGF 2022 will be held at Grand Hyatt Singapore from 12-14 September 2022, following APSIG and co-locating with APNIC 54. You may now register for APrIGF 2022 and are entitled to free admission to APNIC 54 Conference (13-15 September). Pre-registration for both events is required for all on-site and online participants.
To register, you need to sign up for an APNIC account first. Once you complete your online registration, you will receive a confirmation email and a conference invitation letter, which will contain your registration identification. On-site participants shall present the letter to the registration desk to get your conference badge.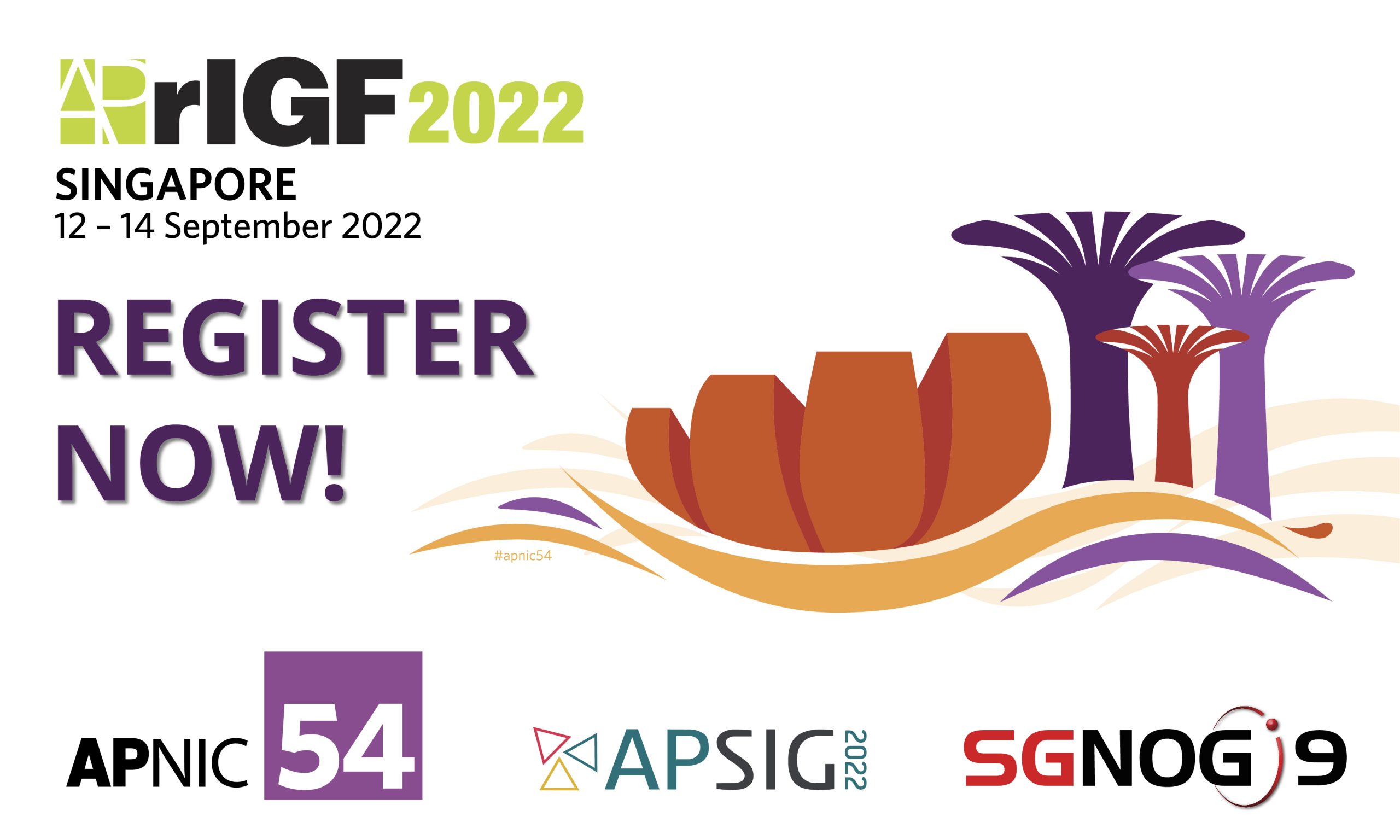 Venue
APrIGF 2022 is being held in an online and face-to-face format at Grand Hyatt Singapore.
Remote Participation
Participants may join remotely for free and there is detailed information on how you can participate.
Code of Conduct
Please take note of the registration terms and code of conduct when registering, which applies to both online and on-site participants.
Travelling to Singapore
All travel to Singapore is governed by Singapore's Vaccinated Travel Framework, which applies to all travellers entering Singapore, including Singapore citizens and permanent residents. Specific entry requirements are in place according to whether you are fully vaccinated or not. Participants are also required to purchase travel insurance to enter Singapore.
Please take note of requirements for both fully and non-vaccinated travellers when entering Singapore.
Accommodation Booking
View the accommodation options available near the venue. APNIC has negotiated discounted rates, and we encourage you to book early to secure a room.
Thanks to the Sponsors
Many thanks to the sponsors for their support of the event.